While a lot of Canadians venture into the United States to participate in tax sales, the opposite is not as common. However, you may want to consider tax foreclosure sales in that country (also known as municipal tax sales), as many of them are conducted by public tender, which means you do not have to attend an auction and instead can submit your bid by mail.
Tax sales in Canada are conducted by municipalities, and can be by either public tender or public auction. A tender is a written document that tells the treasurer how much you will pay for the property. At a public auction, participants bid on the property. In Ontario Province, more than 90 percent of the sales are conducted by public tender. The minium tender or bid is the total of the outstanding taxes, penalty, interest, and the municipality's cost to hold the tax sale. The person who submits the highest tender or bid is allowed to buy the property.
When a property is sold at a tax sale, any mortgages on it are eliminated, except for mortgages in favor of the "Crown." The "Crown" refers to the government of a province or the government of Canada, or one of their agencies or crown corporations. Tax sale properties also may be subject to other interests such as easements, restrictive covenants and adverse possession. And as in the United States, if you buy an environmentally contaminated property you could be held legally liable for the cost of an environmental clean up.
Shortly after receiving payment in full, the municipality will have a tax deed registered on title at the local land registery office. Keep in mind that the property owner can redeem at any time after the sale but before the deed is registeted by paying the full amount of taxes and other costs due.
A very nice resource that focuses on sales in the Ontario province is the website OntarioTaxSales.ca. This site provides a wealth of information on the tax sale process, as well as tax sale lists for upcoming sales that include photos, property information and more.
Happy investing,
Michael Williams
P.S. Check out Rogue Investor's comprehensive course manual on tax sale investing in the United States and Canada:
www.rogueinvestor.com/government_tax_sales_book.html
. Or call 816-673-1874 for more information.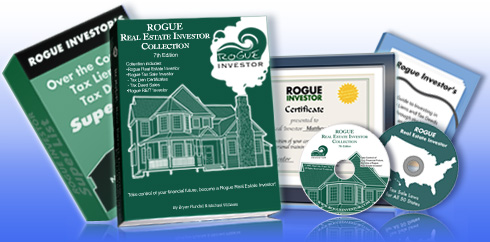 Platinum Rogue Investor Collection